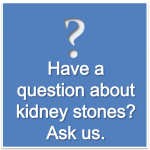 In our "Ask a kidney stone doctor" section, we field questions from stone formers or their family members. Today's question is about knowing when a stone has passed successfully. See other questions and answers or ask your own question here.
July 26, 2011
Question from a stone former actively passing a stone:
I have been diagnosed with a kidney stone.  I am experiencing pain that has now moved to my side.  Occasionally I will get waves of overall abdominal pain, but the sharp pains are still generally located to the side.  How will I be able to tell when the stone has dropped to the bladder?
I've been drinking 4L of water (at least) a day for 8 days now and the stone still has not passed. I would rather now go into work and keep on with my life until the stone passes – I am just concerned with knowing the warning signs of when the stone is very close to passing.
Answer:
During stone episodes, stones generally cause a predictable sequence
of symptoms as they move down the ureter. Initially, pain is located
in the back when the stone is located up near the kidney. As the stone
moves further down, the pain can also be located in the side and in
the abdomen. When the stone is in the lower part of the ureter, the
pain moves toward the front of the abdomen. Once a stone is entering
into the bladder, patients may also feel the urgency to urinate and
can feel pain in the groin. Once the stone makes it into the bladder,
there should be a relief of pain. While this sequence is typical, some
patients may experience different symptoms. We have more information
on this on our "What causes kidney stone pain?" page.
Staying hydrated is a good idea but it is not clear if it speeds the
passage of stones (make sure though to not drink more than about 1
liter in an hour, as water intoxication can occur with intakes of 2
liters an hour or higher). Use of certain medications, such as
tamsulosin, does appear to shorten stone passage. You should know
though that use of this medication for this purpose is "off label" and
should be discussed with your treating physician. Other factors that
influence the likelihood and speed of stone passage includes the size
of the stone and its location. Stones can take up to 6-8 weeks to
pass. If they have not passed by then, treatment may be required.
Before making any medical decisions, always consult with your treating physician.