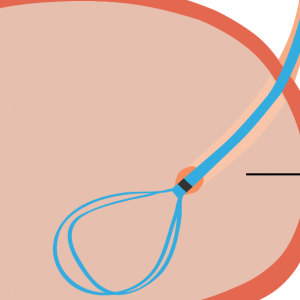 For most patients who have ever experienced a ureteral stent, the faster the stent is removed and becomes a part of their past history, the better. A look at our ongoing stent (dis)comfort poll makes this clear. With a total of 1,716 people responding, 59% reported that the pain level from their stent was 8 or higher on a scale of 1 to 10.
In honor of putting stents in the past tense, we decided to look back at the long history of ureteral stents, starting way back in the 1800s with the first reported placement of a tube into a ureter and finishing up with the introduction of an all metal (!) stent in 2006. Read on to find out more.
1800s– Dr. Gustav Simon describes inserting a tube into a ureter during open bladder surgery. He is credited with being the first person to "stent" a ureter.
1900s– Dr. Joaquin Albarrano creates first catheter meant to be used in the ureter. Stents at that time were typically made of fabric covered in lacquer varnish.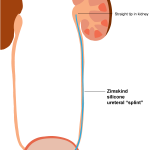 1967– Dr. Paul Zimskind reports insertion a straight silicone tube into a ureter to relieve obstruction. In their report, they referred to the device as a "ureteral splint". This is the first use of a stent that is placed endoscopically (using a camera) instead of through an open incision. It represents the beginning of the modern era of ureteral stents. However, because the stent is straight, it is prone to accidentally slipping out.
1973– Dr. James Montie coins the term "stent" to refer to indwelling tubes placed in the urinary tract.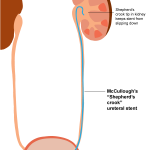 1974– McCullough describes the use of a "shepherds crook" stent to prevent the stent from slipping down and out of the kidney. The shepherds crook design was borrowed from existing stents meant for insertion into blood vessels. While the stent no longer migrated downwards thanks to the upper curl, it was still prone to slipping upwards into the kidney.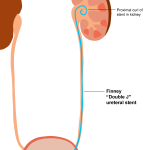 1978– Finney introduces the new "Double-J" ureteral stent design, which has a curl at both the top and bottom of the stent. This is now the most common type of stent used. Having a curl at both ends of the stent helps to prevent the stent from slipping either upwards or downwards. Modern stent designs having a full curl instead of just a "j" curl are technically called "pigtails" but the term double-j is still used interchangeably.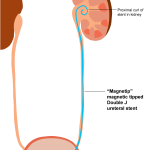 1989– A magnetic tipped "Magnetip" double J ureteral stent is introduced by ACMI which can be removed using a magnet instead of by cystoscopy (insertion of a camera). However, it is no longer on the market, probably because removal using a "Magnetriever" was not always reliable. In one study, only 86% of stents were removed successfully.  The others required traditional cystoscopy for removal.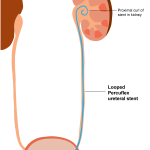 2000– Based on the concept that the distal curl of the stent in the bladder is the cause of patient discomfort, a stent with loops of loose plastic strings at the distal end is introduced by Boston Scientific. The Percuflex "tail" stent was designed to have less plastic material in the bladder. In research studies, it was not found to always be better in terms of discomfort. Dunn and colleagues reported fewer bladder symptoms in patients with the tail stent placed in a study published in 2000 but Lingeman and colleagues in 2009 found no differences in discomfort at postoperative day 4.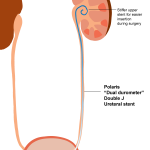 2001– A ureteral stent made with softer plastic on the lower end and stiffer plastic on the upper end is introduced to improve comfort by Boston Scientific. The advantage of having a stiffer upper end is to make insertion during surgery easier, which can be difficult if the stent is too soft along its entire length. The softer bottom end is in contact with the bladder and theoretically might make the stent more comfortable for patients. However, the Polaris dual durometer stent was not able to reduce patient discomfort in a study by Davenport and colleagues published in 2011.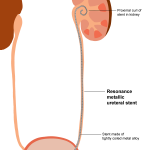 2006– The Resonance metallic stent is introduced by Cook. It is made of a continuous coil of metal, similar in appearance to a tight spring. It has curls at both ends and is designed to be stronger in order to resist kinking or collapse from inwards pressure coming from outside the ureter. The most common use of this type of stent is for ureteral blockage from cancers such as cervical or colon cancer which can sometimes compress the ureter from direct growth surrounding the ureter.
The future– Researchers are experimenting with new stent designs in an effort to make them more comfortable and to avoid the necessity of removing them. These new stents include designs that are impregnated with medications directly in the stent that can relieve discomfort and biodegradable stents that are absorbed over time. We'll cover these and other new stent designs in a future post.
References:
Clinical effectiveness of a new stent design: randomized single-blind comparison of tail and double pigtail stents. Journal of Endourology, 2000, Dunn et al.
Assessing the impact of ureteral stent design on patient comfort. Journal of Urology, 2009, Lingeman et al.
New ureteral stent design does not improve patient quality of life: a randomized, controlled trial. Journal of Urology, 2011, Davenport et al.
Update on ureteral stents, Urology, 2004, Lam and Gupta
Ureteral stents, AUA update series 2008, Vignall and Denstedt