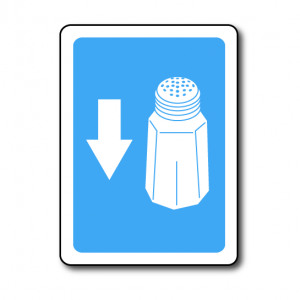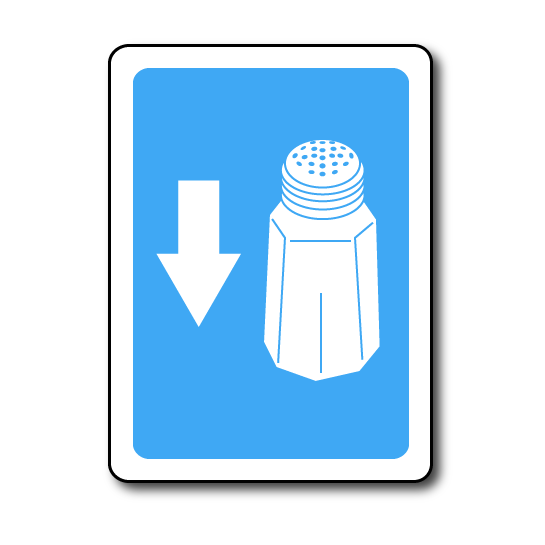 Most individuals think that their calcium and oxalate intake are the main culprits to the formation of their kidney stones.  Because the most common kidney stone type is composed of calcium oxalate, this would seem to suggest that restricting calcium (in dairy products and supplements) and oxalate (in green leafy vegetables, tea, and chocolate, among other items) is the key to preventing stones. However, research has found that lowering the intake of salt (sodium chloride) and animal protein is actually more effective in preventing stones. A high sodium intake increases the risk of stone formation by increasing calcium levels and decreasing citrate (a stone inhibitor) levels in urine. These altered levels make it easier for stones to develop. Additionally, for patients on medications to prevent stones, a high sodium intake will impair the ability of medications such as hydrochlorothiazide to effectively reduce calcium levels in urine.
A five-year study of stone formers who were kept on a reduced sodium intake of 1200 mg a day in addition to a reduced animal protein intake diet demonstrated that a low sodium, low protein, and normal calcium intake diet was more effective in reducing stone recurrence by 50% as compared to a low calcium diet alone. The low sodium, low protein, normal calcium diet led to lower levels of calcium and oxalate in the urine as compared to a low calcium diet which translated into the fewer stones seen on this diet.
The average intake of sodium in the United States is 3500 mg per day. We recommend that stone formers aim to follow the FDA's guideline of limiting their sodium intake to 2300 mg a day in the general population and 1500 mg of sodium a day in those with hypertension, African Americans, or middle aged and older adults. 2300 mg is equivalent to about 1 teaspoon of table salt. Our recommendation is less stringent than the 1200 mg of sodium a day limit used in the study discussed above because it can be difficult for most stone formers to limit their salt intake to that extent.  However, if you are able to decrease your intake to 1200 mg, that may reduce the number of stones you form further. The best way to determine the sodium content of your food is to read the nutrition label. Processed foods tend to contain higher amounts of sodium. Choose lower sodium options whenever possible.
1 cup of canned chicken noodle soup contains 870 mg of sodium
A fried chicken drumstick contains 310 mg of sodium
A serving of shrimp contains 240 mg of sodium
2 slices of white bread contains 200 mg of sodium
15 potato chips contain 180 mg of sodium
1 container of strawberry yogurt contains 85 mg of sodium
1 tomato contains 20 mg of sodium
In addition to lowering the risk of stones, a low sodium intake helps to control or prevent high blood pressure, which can lead to heart disease, stroke, heart failure, and kidney disease.
References:
Borghi and colleagues: "Comparison of Two diets for the Prevention of Recurrent Stones in Idiopathic Hypercalciuria"; The New England Journal of Medicine, 2002.