Urinary infections and kidney stones can be related in two important ways. Infections can be the direct cause of stones or can develop in a patient with a non-infection related kidney stone.
Infections cause kidney stones in about 15% of stone formers.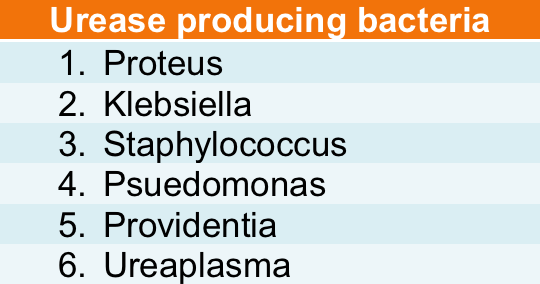 Chronic infection in the kidney by certain bacteria can directly cause kidney stones. These bacteria all produce an enzyme known as urease. Urease is an enzyme that causes hydrolysis of urea, a common substance in urine. This produces ammonium and hydroxyl ions. Alkaline urine results and in combination with ammonium and phosphate ions, leads to the development of magnesium ammonium phosphate stones, also known as struvite stones. Infection stones can also contain carbonate apatite and monoammonium urate. These stones can become quite large and fill up an entire kidney. They are the most common cause of so called "staghorn" stones.  Picture of a staghorn stone.
Treatment of infection stones involves clearance of all stones and antibiotics. Removal of all stones is important because they can contain bacteria, which will not be cleared with antibiotics alone.
Patients with infection caused struvite stones usually present with chronic infections and chronic low-grade flank pain rather than with the acute flank pain more commonly associated with other types of stones.
Infection can develop in a patient with a non-infection caused stone.
When a normal kidney stone causes obstruction, infection does not usually occur. However, in some cases, the lack of urine drainage and inflammation from an obstructing stone can lead to development of a urinary tract infection. 10% of hospital admissions for kidney stones are for an infection complicating a kidney stone. Patients in this situation will often have severe flank pain and fevers.
An infection "behind" an obstructing stone is often an emergency because the body has difficulty clearing these infections and because antibiotics often cannot not reach adequate levels due to the decreased blood supply and urine flow that occurs whenever a stone causes obstruction. In these cases, urgent drainage with either placement of a ureteral stent by a urologist or a percutaneous nephrostomy tube by a radiologist is often required.
References
Thomas et al, Concurrent urinary tract infection and stone disease: pathogenesis, diagnosis, and management. Nature Clinical Practice Urology, 2008.
Brown, Management of urinary tract infections associated with nephrolithiasis, Curr Infect Dis Rep, 2010.