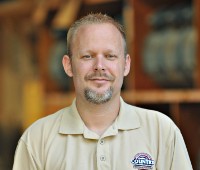 Something I have noticed over the last several years while reading up on kidney stone formation, living with stones, and generally how to prevent stones is: almost everything is written by women. I find this a little odd as typically men are more likely to experience at least one stone in their life. Possibly it's because men don't like sharing how they feel.  Am I stereotyping here? Maybe, but I'm speaking from personal experience with not wanting to share my own thoughts and feelings. I am writing this to share with you my perspective on life and how I deal with the massive numbers of stones I pass; in the hopes that I will be able to help at least one person stay "sane" from this disease.
A little history on me: I'm a 35 year old male, husband for over 15 years and I have one teenage daughter (my girls are my angels when it comes to helping me keep my sanity).  The first time I remember having stone pain was when I was 9 years old. My family always thought I would be getting the start of a bladder infection and put me on a cranberry juice diet. When I was 16 years old I passed my first sizable stone, and was able to add 2+2 together and figure out what had been going on most of my life. From age 9 -30 I averaged one or two stones a year. Once I hit 30 something changed. Things got worse and worse until I plateaued out at an average of 130 stones a year. Approximately 100 stones are 4mm or less, leaving the other 30 to be 5mm or larger. I have passed up to 8mm stones, all of them naturally. I have never had any type of procedure, if there's one thing I'm good at, passing stones is apparently it!
When you break down that math, that's something like a 3 day average for 4mm or less and a 12 day average for 5mm or larger. That is a lot of stones! Needless to say, there isn't a day that goes by that I'm not in some type of pain, thinking about stones or on some type of medication. To help manage my stone formation I drink 3-4 liters of water daily, and have tried a combination of preventative medications that to date have had no effect.
Other than the horrible issues with stones I'm a perfectly healthy man nearing his middle aged years. I maintain a full time job which I find rewarding, I find time to go fishing both with my family and friends. I make the time for my girls. I think that is the key to handling life as I know it. Making time for the small things. Without taking time to enjoy life it would be all too easy to fall into the trap of feeling sorry for myself, over medicating myself and generally going into a downward spiral.
I have seen various health professionals over the years.  It has taken me a good 15 years to find the right primary care doctor and urologist.  I have tried all of the diets, to no avail.  I have tried a diuretic, and ended up being allergic to it.  I drink 3 + liters of water a day (sometimes up to 5) which I think is a key.  This has helped me from forming as many large stones. Currently I am trying potassium citrate to see if that does anything for me. It will be quite some time before that starts showing any effects. The bottom line is I'm an anomaly, and there's no good reason for why my body does what it does.
I have found a combination of hydrocodone and oxycodone to work well for me in managing my pain. I have a healthy fear of addiction, and have voiced this concern with both my medical team and my family. Not only do I hold myself accountable, but so does my PCP and my wife. I find this helps alleviate the fear and the stigma of taking pain medication. I honestly don't know what life would be like if I wasn't able to have my pain managed.
I suppose with all of my ramblings on, I just want people who pass a massive amount of stones to know that living a regular life is possible. I see so many people who withdraw into themselves out there, I want those people to know that you can beat this.  It's all a mental game, and it starts with making the time to enjoy the small things.  Take the time to work on YOU!  Go fishing, go for a hike. It's amazing to me how much better I feel about all facets of my life after I get back from an outdoor excursion.