We know that the prospect of needing to have a stent removed is a big source of anxiety for patients. While almost everyone can't wait to have his or her stent out, not knowing what to expect during the removal procedure can be just as bad. To better prepare you for your procedure and perhaps relieve some of your concerns, we asked visitors to the website who have already gone through the process to share their experiences with you. The results of our stent removal survey follows. Thanks to everyone who replied and let us know what you think in the comments below.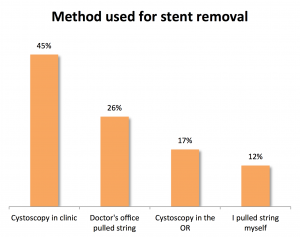 How are people having their stents removed?
575 of you have responded to the survey over the last 3 months that it has been up. The most common method of stent removal was through the use of a flexible camera placed in the urethra (cystoscopy) in the doctor's office, with almost half of respondents reporting this approach (45%). 17% instead had their stents removed using cystoscopy in the operating room. 12% removed their stents themselves by pulling on a stent string while the last remaining 26% had their stents removed by having their doctor's office pull on the string. Our post on stent removal describes these techniques in more detail.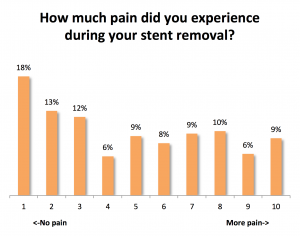 How much pain should I expect?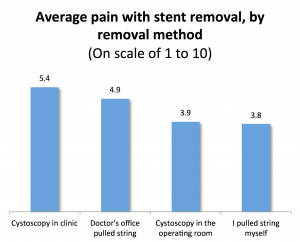 Out of a scale of 1 to 10, with 10 being the worst pain ever and 1 being no pain at all, the overall average amount of pain reported was 4.8 or a moderate amount of discomfort. However, it may surprise you to hear that the most common rating given was 1, or no pain at all, chosen by 18%. So while some patients do report a high amount of pain with their stent removal, many had no pain or only mild pain. If we look at pain by method of stent removal, average pain was relatively higher for those who had their stent removed by office cystoscopy (5.4 out of a scale of 1 to 10) followed by doctor's office string removal (4.9), operating room cystoscopy (3.9), and self string removal which had the lowest reported amount of pain (3.8). However, these differences between method of removal are not dramatic given that the scale goes from 1 to 10.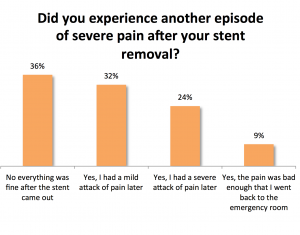 Will I experience pain afterwards?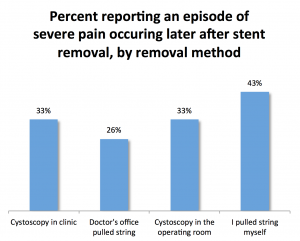 Most patients had no pain or only mild pain after their stent removal. Unfortunately, a third of patients (33%) did experience a severe attack of pain after their stent removal, including an unfortunate 9% who required a return trip to the emergency room for their pain. When comparing recurrent pain by method of stent removal, severe pain occurring after stent removal was more common in the self string removal group (43%) and less likely in the doctor's office string removal group, office cystoscopy, and operating room cystoscopy groups (26%, 33%, and 33%, respectively). It's not clear why those who pulled out their own stents were more likely to report a severe episode of pain afterwards. There is some evidence that taking a tablet of an NSAID medication (naproxen) before removing your stent can help reduce the chance of experiencing a severe episode of pain.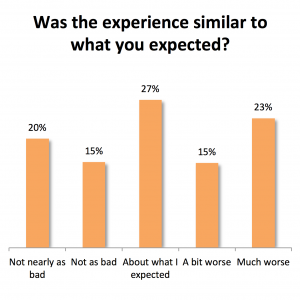 How did the experience compare to what you expected?
Overall, 35% felt the actual stent removal experience was not as bad or not nearly as bad as they expected. 27% reported that their experience was about what they expected. 15% felt it was a bit worse and 23% felt it was a much worse. Reporting the pain as much worse than expected occurred in 27% of those who underwent office cystoscopy, 24% of those who had their stents pulled out by the clinic, 20% of those who pulled out the stent themselves, and 15% of those who had a cystoscopy in the operating room.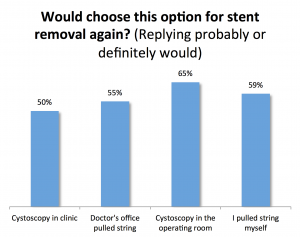 If you had a choice, would you choose this option again?
Those who underwent operating room cystoscopy to remove their stents were most likely to choose the same technique again (65% replying probably or definitely would choose this method again) followed by self string removal (59%), doctor's office string removal (55%), and office cystoscopy (50%).
While we asked respondents whether they would choose the same method for stent removal the next time, not all options for stent removal may always be available to you. For example, your doctor may choose not to use a string if he or she feels that your stent needs to remain in longer than a few days because the string can easily get snagged and the stent might accidentally be removed too early. Secondly, stent removal in the operating room is not always an option because: time in the operating room may not be available, the risk to you of undergoing anesthesia again may outweigh the benefit of having the procedure done in this fashion, the costs to you in terms of time and money involved in scheduling and preparing for an operating room procedure may not be worth it. We recommend that you talk to your doctor to go over the best option for stent removal in your particular case.
Priorities as a patient:
We asked respondents how much of a priority certain things were to them as a patient with a stent. Being informed why a stent was placed was the biggest priority for respondents (4.7 on an importance scale of 1-5). Being informed about what was actually involved in the stent removal procedure was also a high priority (4.5). Being able to have general anesthesia was a moderate priority (3.1) while being able to see a video/diagram of the process was a lower priority (2.9).
Okay, what's the bottom line?
Most patients reported an average amount of discomfort with stent removal by any technique. Many patients actually reported no or minimal pain but about a third reported significant pain. Removal by office cystoscopy was associated with more pain on average and removing a stent yourself by pulling on the stent string was associated with less pain on average. A third of patients may experience a delayed attack of severe pain after their stent removal. Overall, about 62% reported that the experience was not as bad or about what they expected but 38% said it was a bit worse or much worse than they expected.
Editors note: Post updated on August 29th with additional survey results.