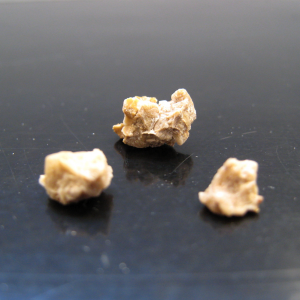 If you've recently experienced a kidney stone episode, there is a good chance that a medication such as tamsulosin or nifedipine may have been prescribed to help you pass your stone. These medications, originally designed for other purposes including treating high blood pressure and enlarged prostates, were thought to increase your chances of passing a ureteral stone by relaxing the muscles in the ureter.  This treatment is known as "medical expulsive therapy" and several dozen studies supported their use. A combined review of 32 studies by the Cochrane Collaboration found "a higher stone-free rate and a shorter time to expulsion" with these medications and the authors concluded that "alpha blockers should therefore be offered…as one the primary treatment modalities" for patients passing a ureteral stone.
A recently published large study from the UK has however demonstrated the opposite conclusion: these medications appear to be ineffective in helping stones to pass. The study, published in the Lancet by Pickard and colleagues in July of 2015, differed from previous studies in its size and thorough scientific design. 1,167 participants with ureteral stones measuring on average 4.5mm were randomly assigned to three groups. In each group, participants were given either placebo (sugar pill), tamsulosin, or nifedipine. The participants were then followed to see whether they passed their stone successfully. After 4 weeks, there were no differences seen, with 80% of those receiving placebo not needing further treatment, compared to 81% of those receiving tamsulosin and 80% of those receiving nifedipine. Pain scores, pain medication use, and time to stone passage also did not differ between the groups. The bottom line? These medications did not seem to improve your chances of passing a stone, nor did they reduce pain with stone passage. You can read the full original study at the Lancet's website.
Why did the results of this study differ so significantly from prior studies? The most likely reason is the large size of the UK study and its design allowed for a more thorough evaluation of the potential benefits of these medications. Prior studies were small, involving in most cases a hundred or so patients. Small studies can be less accurate and to help combat their drawbacks, researchers sometimes pool the results of multiple smaller studies into one large study in a technique known as "meta-analysis". This is how the Cochrane collaboration report mentioned above conducted their analysis. While this approach is helpful in many cases, one potential drawback is the risk for the results being influenced by "publication bias" – researchers tend to have better luck publishing studies that show a positive benefit while "negative" studies, which show no effect from a treatment, are less likely to published. These "negative" studies are therefore less likely to be available to be included in meta-analyses, skewing the results towards the published positive studies, potentially showing a benefit where there may not be one. The UK study additionally differed in other important ways from prior studies, including by not using repeat CT scans to assess stone passage. This is more similar to actual practice in the real world but it may be less accurate in assessing whether a stone has passed or not.
Future research on this topic may find that these medications or other medications may have some role in helping to pass stones in specific situations (such as in patients with larger stones) but for now, these new findings suggest that for most patients, using alpha blocker medications may not be beneficial in helping to pass a stone. If you find yourself in the unfortunate situation of trying to pass a stone and are offered this type of medication, talk to your healthcare provider to see if they feel you should still take them in light of these new findings.