With the increased attention on the rapidly increasing cost of healthcare, we decided to take a closer look at how much kidney stone disease costs in the United States.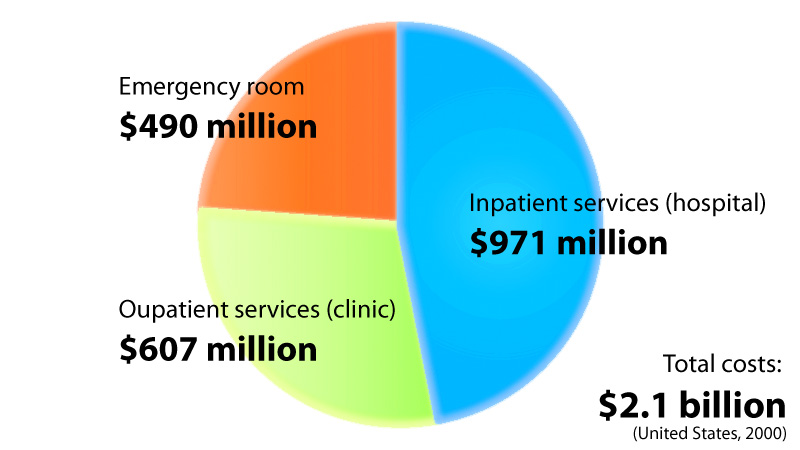 United States healthcare expenditures for kidney stone disease for the year 2000 (most recent available published data).
Underlying the costs for kidney stone treatment is how common stone disease is, with about 1 in 10 Americans experiencing a stone during their lifetime. That results in a lot of clinic and emergency room visits, trips to the operating room, and prescriptions for pain control medication. Additionally, because stone disease often afflicts working aged adults, there are also large costs incurred due to lost work hours.
Where is the money going?
About half of the healthcare expenditures for stone disease was due to inpatient hospital costs, which includes surgeries requiring hospitalizations and admissions to the hospital for stone related problems. Other costs included clinic visits, outpatient procedures, emergency room visits, radiology examinations, and prescription drugs. The estimated average healthcare cost for each stone patient for the year amounted to $6,532 dollars. This is considerably higher than the average healthcare cost of $3,308 for non-stone formers during the same year. Note that these figures refer to costs for health insurers. The "out-of-pocket" costs for an uninsured individual will be higher, sometimes significantly more.
Average cost per stone former:
$6,532 of which
18% were for prescription drugs
Cost of surgeries
About 25% of stone patients require surgical treatment each year. Of the surgical options available, percutaneous nephrolithotripsy was the most expensive approach, as measured by cost by procedure, with shockwave lithotripsy and ureteroscopy coming in second and third. The dollars figures shown below were for the year 2000 and reflects expenditures by insurance companies. Out-of-pocket costs for an uninsured patient will be higher.
Average cost of stone surgeries:
PCNL: $3,624
ESWL: $2,295
Ureteroscopy: $1,425
Costs due to lost work:
In 2000, 1% of all working age adults missed work due to a stone episode. When focusing on just stone formers, 30% of them missed work due to a stone episode, with each worker losing an average of 19 work hours over the year, or 3.1 million lost workdays for the entire working population. Estimating an average U.S. hourly wage of $24 an hour, that equates to $456 of wages lost per worker. From an employer's standpoint, the estimated indirect costs due to stone disease was $775 million dollars a year. Unmeasured here are other potential costs, such as childcare, transportation, and lost work by family members that might be incurred during trips to the emergency room, clinic, or operating room.
 Lost hours of work:
19 hours per worker
Lost wages per worker:
$456 dollars
References
Saigal et al, "Direct and indirect costs of nephrolithiasis in an employed population: Opportunity for disease management?" Kidney International, 2005.
Lotan and Pearle, "Economics of Stone Management", Urologic Clinics of North America, 2007.
If you have experienced kidney stones, let us and other readers know how costs for stone treatment have personally impacted you by commenting below.