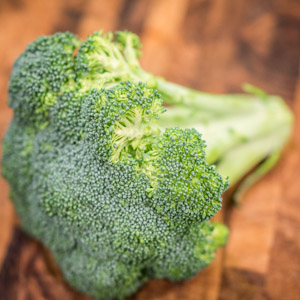 Earlier this year, a poll found that 7% of Americans identified themselves as vegetarians while an additional 6% were vegans.[1] Vegans, as you may know, in addition to not eating meat do not eat dairy products. Worldwide, the country with the highest levels of vegetarians is India, with 9% reporting being vegetarians and 31% reporting being vegan in a 2006. [2] One benefit of vegetarianism that often isn't mentioned is enjoying a lower risk of developing kidney stones.
Meat intake can increase your risk of kidney stones. Meat contains high levels of protein, including a common food substance known as purine. Most other foods, including beer and some fruit and vegetables also contain purine but meat and seafood generally have the highest concentrations. Your body processes dietary purines into a waste product in the urine called uric acid. This results in a cascade of events which can increase your risk of kidney stones. First, uric acid itself is a stone promoter. It also increases your urinary acidity (lowers the pH). The increase in acidity then increases your urine calcium level and lowers your urine citrate level, which both also result in an increase in your risk of stones.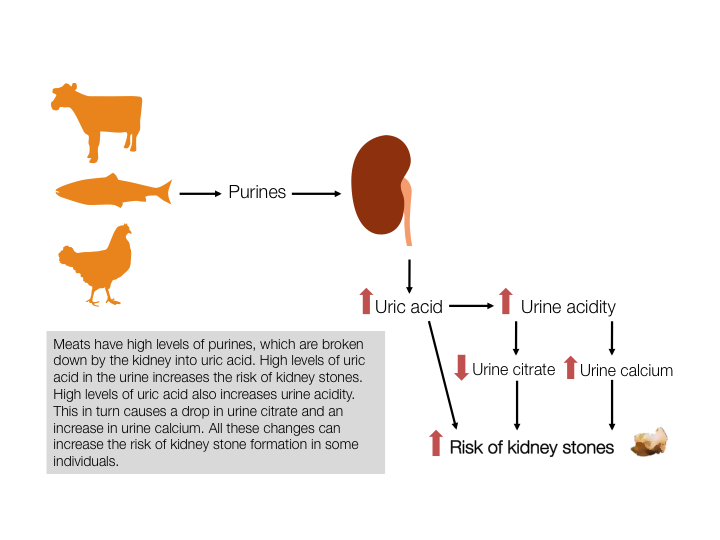 So how much does eating meat actually increase your risk of stones? In a large study from the University of Oxford, Dr. Ben Turney and colleagues used data from a dietary survey of 50,617 individuals from the United Kingdom that intentionally included a large percentage of vegetarians and vegans.[3] 202 individuals developed a kidney stone episode during the study. The researchers looked at the type of diet an individual reported and their risk of kidney stones.
Meat intake was classified into six categories: high meat eaters (>100 grams a day), moderate meat eaters (50-99 grams a day), low meat eaters (<50 grams a day), fish eaters, vegetarians, and vegans. What they found was that high and moderate meat eaters were at the greatest risk of developing kidney stones while low meat eaters, fish eaters, and vegetarians all cut their risk of developing a kidney stone by approximately a half. Vegans had an even lower risk of kidney stones. However, the authors note that because there were only 5 vegans in the study with kidney stones, the estimate for vegans may not be as accurate.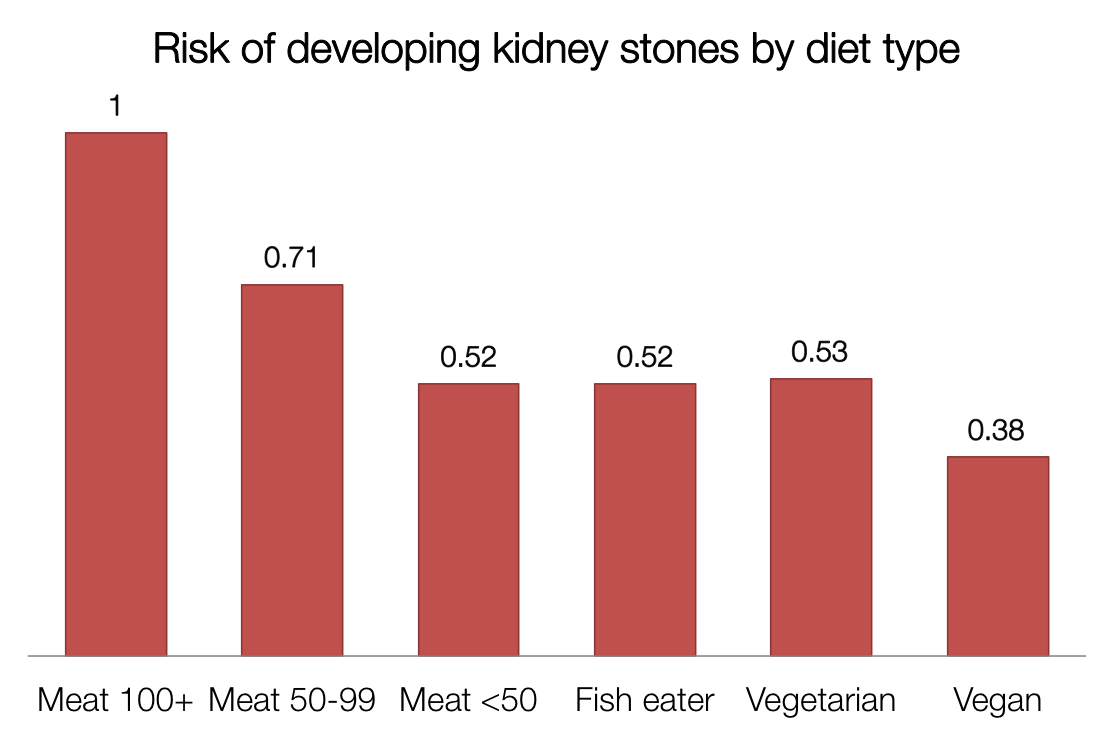 The risk numbers in the graph above indicate something called relative risk. If you are not familiar with this term, the concept can be explained this way: We decide to say that folks who have diets with the highest meat intake (100 grams or more a day) have a "reference" risk to which we assign the number 1. We then compare other diet types to this reference group. If the other diet types have a relative risk number greater than 1, they are at higher risk. If they have a relative risk number less than 1, they are at lower risk. A relative risk of 0.5 represents half the risk and a relative risk of 0.25 would represent one quarter of the risk.
The takeaway from this study is that if you're a "kidneystoner", cutting back on your meat intake can lower your risk of stones. The good news is that lowering your meat intake even moderately helps and lowering it more cuts your stone risk by half. In fact, having a low meat intake or eating primarily fish seems to be just as good as being a vegetarian from a stone formation viewpoint. For the truly hard core, becoming a vegan might result in having lowest risk of developing a stone.
We'd like to thank Dr. Turney for allowing us to use his data for this post. You can learn more about his work here at the website for the Oxford Stone Group.
References
1. Public policy polling, "Food Issues Polarizing America", 2013

2.  The Hindu, "Food Habits of a Nation", 2006
3. Turney BW, et al. "Vegetarianism and Urolithiaisis", presented at the American Urological Association Annual Meeting 2011.