Let's talk fatigue.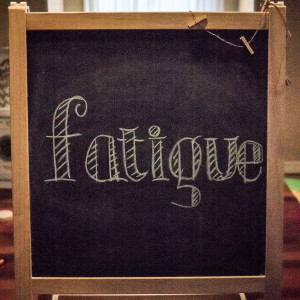 More often than not, I'm completely exhausted. Even healthy people get tired at times, so they think they know what we mean when we say we're exhausted. It's when I have to nap for several hours a day that it becomes a problem. I can't control it, and I never know when it's going to happen. My body just shuts down and I have to go to bed. I literally can't keep my eyes open, even if I'm in the middle of doing something. It's like I have narcolepsy, but I don't. At least, I've never been diagnosed with it because any time I bring all of this up with my doctors, it's completely dismissed.
I do my best to fight it, and I set my alarm so I can wake up to take care of the things I need to during the day. I homeschool my daughter, so we have the flexibility to work around my symptoms and still get the work done. I know a lot of you have little ones or older kids in public school and can't do that. Homeschooling isn't for everyone for a variety of reasons, but it works for us.
The battle between needing to sleep and insomnia is real. Sometimes I can't sleep because of painsomnia, a term we all know well. Other times, my brain just refuses to shut off and no matter what I do, sleep doesn't come. After a couple of days like this, I'm operating in zombie mode until my body completely gives out again. I've tried everything over the counter I can think of over the years to help. One PA told me, "If you go to bed at the same time every night and get up at the same time every morning, your sleeping pattern will correct itself." It sounds logical when you hear it, but it's easier said than done when your body refuses to cooperate and you lay there staring at the ceiling for hours at a time, willing yourself to go to sleep. I can't just lay awake in bed for hours on end. I have to get up and do something.
I'm as active as I can be without being overactive and putting myself in the hospital. I'm not depressed. I have a pretty good attitude about life, all things considered. I eat healthy. I take Vitamin D, B6, and Melatonin; all of which are supposed to help with sleep. Just like with the other OTC sleep medications, it's hit or miss as to whether they work. I only drink one cup of coffee a day, and I either drink water or decaffeinated drinks for the rest of the day. I don't take any prescribed medications that cause sleep issues. My thyroid and parathyroid have been checked multiple times and are fine, so none of that is the cause.
I think for me, this is just another one of the mysterious symptoms that I must work around, and I do find ways to work around it. When I need to sleep, I sleep. When I'm dealing with insomnia, I do my best to get things done around the house if I'm not in too much pain. Granted, I still have to rest multiple times because being too active ramps all of my symptoms up, but I do manage to make progress. I also spend time with my daughter if she isn't sleeping, research or write, or just veg out with Netflix during these times.
As frustrating as it is, we have to learn how to take these trying times and turn them into something positive. If we don't, MSK and everything that comes with it will drive us insane and I'm not going to let it do that to me. Although I will admit, it does get the better of me at times. I know those of you who work or have to follow set schedules have a much harder time than I do, and I really feel for you. What are your tips and tricks for dealing with fatigue?