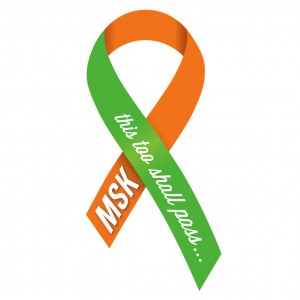 My how time flies when you're having fun… or is it when you're in pain? My last post almost two whole years ago touched on my experience with MSK and how I was coping with it. Let me tell you that things have most certainly changed since 2012. I am proud to say that I've managed to stay out of the Emergency Room (ER) for just under a year and a half at this time. Considering I was making the trip there almost 4-5 times per year, this is a great accomplishment for me. The main thing that has changed since then is that I've learned to accept certain aspects of MSK and after 9 years of searching I've got a great medical team on my side managing my pain and the progression of my MSK.
My partner MSK Advocate Mary Maston and I recently sat down to talk about what living with MSK is really like and some tips that we'd like to share with you. We think that you'll find them valuable if you're newly diagnosed, a few years in, or an old "sponge" pro.
It is important to note that our tips come from years of personal experience with MSK and may not be what you are experiencing/have experienced. Always talk to your healthcare team before stopping treatment plans or adding anything new. 
Living with MSK tip #1
Be careful with how many surgeries you choose to have done. At this time, there are no cures for MSK and there aren't any good treatments either. Most patients face having surgery done at least once in their lives and many more must decide on having it done multiple times. The surgeries that are most commonly done for MSK are Lithotripsies and Ureteroscopies. Both remove stones different ways (Kidneystoners has awesome information on this—be sure to check it out here). At the age of 26, Kayla has had 3 Ureteroscopy Papilotomies done. In 2009, the urologist cleaned out both kidneys completely. By 2011, the right kidney had already grown just as many stones as was removed in 2009 and was cleaned out again by a new urologist. During the last CT scan in 2013, there were twice as many stones in both kidneys. Mary is 39 and has had a total of 14 surgeries since the age of 13, both Lithotripsies (which were unsuccessful in her case but that doesn't hold true for everyone), and Ureteroscopies. Eleven of those surgeries have occurred in the last 8 years with the last one being done in 2012, and her kidneys are still full of stones and extensive Nephrocalcinosis, and large cysts have started to form. Surgery may be a necessary evil for some MSK'ers, but for some it's more of a costly and time-consuming temporary maintenance solution than a worthwhile treatment.
Living with MSK tip #2
At a certain point in your life, you do come to realize that "this" is your new normal. You have to accept it, even though it's hard to do. Whether you suffer with seemingly non-stop infections, passing blood, sand, and/or stones on a daily basis, and/or the constant and never ending pain… it's important for your sanity to find ways to cope with it. MSK is a progressive disease and will be with you for the rest of your life (KidneyStoners has one of the most comprehensive and accurate descriptions of MSK here). You will have good days and you will likely have bad days and it sure isn't fair, but we must move on. We all have our own battles and it's easy to get depressed or caught up in it all. It gets to the point to where family and friends just don't understand. It takes a huge physical, emotional and financial toll. That is why it's so important to have a support system in place that can help you get through those times, and whether you know it or not, you already do. We have worked hard to create a safe, established Facebook group that was started in 2007 for these very reasons here. For 7 years we have been helping people cope with MSK on a daily basis with everything from advice on how to talk to your doctors, information on procedures and diet suggestions, to just being there and offering support when you need to vent. As admins of the group, we want you to know that YOU and what you are going through personally are the priority and always will be.
Living with MSK tip #3
With all that being said, it's imperative that more legitimate research be done on MSK patients. At this time, there is no MSK research being conducted and only a handful of publications on PubMed.gov about MSK.  The literature and general consensus about MSK needs to be changed for MSK patients to ever lead a quality life. We can't tell you how many MSK'ers we hear from each day who tell us that no one believes them and that doctors won't take them seriously because they either think they're drug-seeking or think that they are lying about their symptoms. We hear from so many patients that have switched doctors many, many times searching for just ONE that believes their pain is real and is willing to take them seriously. Unfortunately this looks bad to doctors and hospitals, and it makes patients feel like they're crazy because they can't find anyone in the medical profession that's willing to help. That is why new and reputable research is so vital.
Living with MSK tip #4  
You are your own best advocate. It isn't always easy to do when you feel defeated, but you should make it a point to educate yourself about MSK so that you can effectively present the information to your doctors. That in itself can be an overwhelming task because most information is outdated and likely much different than what you are experiencing. We have been working to change that in the last several years, and have made some tremendous strides. We do have some information that you can share with your doctors in our support group. It also helps if you can find a family member or friend that is willing to advocate on your behalf that is willing to stand up for you if you have to go to the ER or even at a routine urologist appointment. If you understand the disease and can explain it effectively, doctors often seem more willing to listen and help.
We believe there are better treatment options for us on the horizon; they just need to be explored and studied. That is why we are pushing so hard for new research. If MSK were better understood both by medical professionals and the general public, patients and their families would have a better idea of what to expect and how to deal with it. It's time that we recognize it for what it is, and it's time that we are treated as MSK patients and not typical kidney stone patients because we aren't "typical" kidney stone patients!
In the meantime, there IS hope for patients who are struggling. Our support group is a lifeline for hundreds of people who are struggling with living with MSK day to day. We empower MSK patients to take an active role in their care by providing relevant information and providing the crucial support that is so desperately needed. We have grown in the last 3 years from just a handful of people to 1141 members from all over the world, which is a staggering and powerful jump for a rare disease that is labeled as benign. If you have MSK and are interested, you will find comfort in knowing that you are not alone, you are not crazy, and there are people willing to listen to you. You can join the private and safe group by following this link.