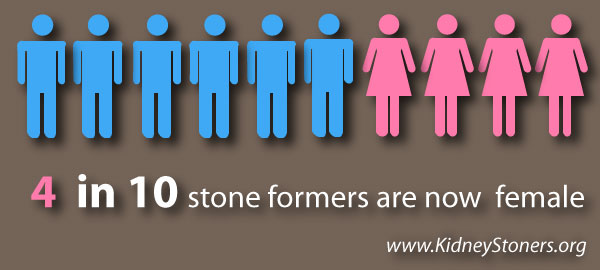 Women appear to be at greater risk of forming kidney stones nowadays than ever before in the past. Previously, doctors observed that stones were 3 times more common in men than women (75% versus 25% of stone formers being men or women). Based on data from 2007, that has decreased to stones being only 1.7 times more common in men than women (61% versus 39% of stone formers being men or women).
So how have women almost closed this gender gap and achieved near equal rights to kidney stones? By becoming more like men. While both males and females have become more obese, women are increasing their weight at faster relative rate than men. Because obesity is strongly linked to kidney stone disease, researchers suspect this may be the underlying cause for the shift is stone disease patterns.
Female stone formers have a different distribution in stone types than male stone formers. Women are more likely to get infection related struvite stones because they are more likely to experience urinary tract infections than men. On the other hand, women are less likely to experience uric acid stones than men. This is because gout, which is associated with uric acid stones, is more common in men.
Female stone formers appear to be slightly younger than male stone formers. Female stone formers were on average 52.5 years old versus male stone formers who were 53.6 years old in a recent national survey of kidney stone patients. Female stone formers also appear to experience their first stone episode at an early age than male stone formers.
Women should not restrict their calcium. A common question among female stone formers is whether to stop their calcium supplements. Reducing calcium intake actually will increase the risk of stones in most individuals. Therefore, most female stone formers should maintain a normal calcium intake. Learn more about calcium intake and kidney stones on our separate page "Should I stop my calcium if I have kidney stones?".
References
Scales et al., Changing Gender Prevalence of Stone Disease, The Journal of Urology, 2007.
Author's analysis of the National Health and Nutrition Examination Survey, 2007-2008 dataset. Not yet published.