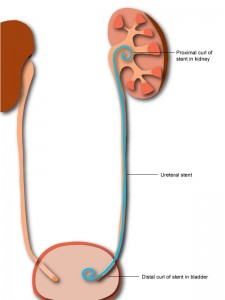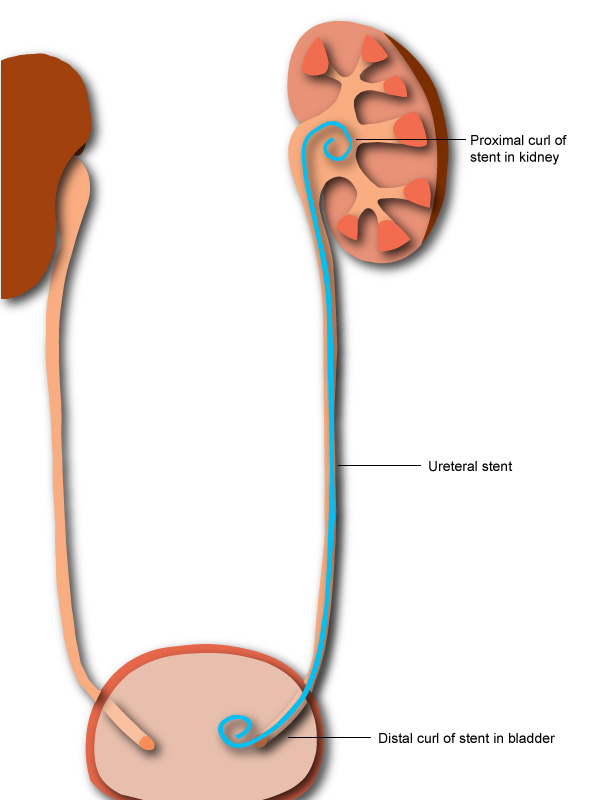 We previously went over how to place a ureteral stent. In today's post, we go over the steps of removing a stent. Ureteral stents are removed using two basic methods:
1) By pulling on a stent string, if the string was left in place.
2) Placing a camera into the bladder (cystoscopy) to directly see and grab the stent with a small grasping device.
Removing a stent with a string left in place:
In some cases, your urologist will leave a string attached to one end of a ureteral stent. The stent string is a long piece of thread that will start from the stent and drape out the urethra, where it is visible at the urethral meatus (where urine comes out). A diagram and photos of a stent with a string attached are shown below.
To remove the stent, the visible string is firmly held and steady continuous pulling is applied until the entire stent comes out. The curls at the end of ureteral stent are flexible, so the stent should uncurl and come out easily.
What's the advantage of leaving a string?
The stent can be removed without performing cystoscopy.
Patients can remove their own stent without waiting for an appointment or having to come to the office.
Stents can't be "forgotten" when a string is attached. When no string is left attached, a patient may forget or not realize that a stent was left in place. Over time, these forgotten stents can form large stones on them, making removal very difficult.
What's the disadvantage of a string?
The string can get snagged on clothing or be pulled on accidentally, resulting in a ureteral stent being removed earlier than it was supposed to. This seems to more commonly occur with female patients.
The string can be a minor annoyance.
Some patients prefer not to have to remove their stents themselves at home using the string. They however can usually come to the office where the staff can perform this for them.
Removing a stent by performing cystoscopy (with video below):
When no string or only a portion of the string is left attached, your urologist will need to use a camera to enter your bladder through your urethra. He or she can then see the stent and use an instrument to securely grasp it and remove it. The process is usually quick and occurs in the clinic. It takes only a minute or so in most cases.
Steps in removing a ureteral stent with cystoscopy
Use a cystoscope to enter the bladder. (A cystoscope is a camera that can be placed into the bladder).
Identify the stent.
Use a grasper to securely grab the stent.
Remove the cystoscope, grasper, and the secured stent as one unit.
The video at the bottom of the page demonstrates all these steps.
How uncomfortable is stent removal using a cystoscope?
For the majority of patients, stent removal is not as uncomfortable as they expected. We often have patients react in surprise when they learn that the stent has been already been removed and the procedure is done.
Unfortunately, some patients do experience discomfort with stent removal, more commonly in men because of their longer urethra. This can be due to discomfort from the cystoscope itself or from the sensation of the stent being removed. While most patients do not feel the stent actually sliding when removed from the kidney, some do experience an uncomfortable sensation with this.
Is there anything that can be done to make it more comfortable?
Lidocaine jelly placed into the urethra at the beginning of the procedure will help to numb the area but will not completely take away sensation.
In men, and also occasionally in women, increased discomfort is related to tightening of the urethral sphincter as the scope is passed into the bladder. Trying to relax, take a deep breath, and not "clench" down during the cystoscopy process can sometimes make the process less uncomfortable.
Anticipation and perception also seem to play a role: Researchers have found that patients who watch their own cystoscopy procedure on a video screen experienced less discomfort than those that did not.
Video of ureteral stent removal in a male patient.
Pain after stent removal:
In most patients, stent removal is a relief as their stent discomfort goes away. However, in some patients, severe pain may occur for several hours. This is thought to be due to spasms of the ureter or swelling and temporary blockage developing after the stent comes out.
Not enough is known about this phenomenon but one recent study suggests it may occur in as many as half of patients. In the study, patients given a single dose of rofecoxib did not experience this pain while those given placebo developed it in 55% of cases. Rofecoxib went by the brand name Vioxx and is no longer available in the U.S. as it was withdrawn by the manufacturer.  The authors of the study report they now use naproxen as an alternative. You can read more about the study in our post "Severe pain after stent removal: How often does it occur and can anything prevent it?"
If you are thinking about trying naproxen, be sure to read the manufacturer's warnings as some patients should not take the medication and check with your doctor first to make sure it's okay in your situation.